Anupam Srivastava
CEO, Founder Director of Insight Life Coaching Services & Acorn Fostering Service, he is an acclaimed life coach, facilitator and change consultant based in United Kingdom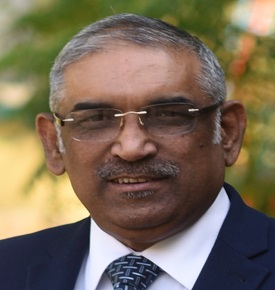 Anupam Srivastava is an acclaimed life coach, facilitator and change consultant based in United Kingdom and is the Co-founder of The Enabling World!.
Anupam Srivastava is a Development Management Professional, and a Social Worker with an extensive experience of 31 years. A Master's degree holder in Social Work from the prestigious Jamia Millia Islamia University, New Delhi, Anupam started his career in 1987 as a social work practitioner in NGO Sector.
After migrating to UK in 1990, he worked extensively and dedicatedly in the area of child protection, counselling and practice teaching. He is also a qualified Development Management Professional with a post graduate diploma in Development Management. He has trained a number of students and volunteers under him. Amidst his various stints at learning, discovering and honing his talents, Anupam associated himself with a network marketing business in the late 1990s and achieved an unmatched feat of generating a huge turnover without selling a single product - all through his sheer ability to enhance and train people under him for better performance. With a vast body of related work experience under his belt, Anupam founded his own private Foster Care Agency - Acorn Fostering Service Ltd - in Leicester, UK, in the year 2003, which again is thriving business in the UK to date.
Counselling: The Project Manager of Asian Counselling Services, Leicester, UK, completed her social work practice placement under him. Thoroughly impressed by his facilitative style of teaching and coaching, she invited him to join the management board of the organisation in the year 1994-95. This marked the start of his journey in teaching, practising and managing counselling services. He wrote the counselling skills training programme, got it nationally accredited, and trained hundreds of counsellors. He was instrumental in redesigning and reshaping the organisation and its service delivery on ethical and professional standards prescribed by the British Association of Counselling and Psychotherapy (BACP). The upgraded standard of practice of the organisation attracted a high volume of service users from across the country and consequently attracted the Department of Psychiatry of Leicester University to carry out a joint research study to explore the Impact of Counselling. The findings of this study were later published in the journal of Royal College of Psychiatry. Another national counselling organisation approached him and wished to collaborate with him and learn ways of engaging and involving Asian community into their fold, which they had historically failed in doing so.
He has now taken up upon himself to bring his experience and expertise, both in business management and in the field of professional counselling practice, to set up nationwide Counselling Services in India.